Referrals New
Accessing our programs and services
If you, your patient, or someone you care about needs our help, we're here. Choose your area of identity below to refer your patient, yourself or someone you care about for support from Vision Loss Rehabilitation Canada. Greater independence is only a few clicks away.
Health care professionals
Are you a doctor, nurse or other health care professional? Do you believe one of your patients may need vision loss rehabilitation support?
Individuals and families
If you or someone you love has experienced a loss of vision, we can help. We serve people of all ages, right across Canada. Refer yourself or someone you love > 
Professionals, Employers and Educators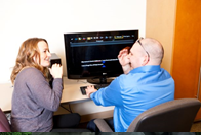 Do you work with a client, employee or student who may need our support? You can refer that person on their behalf with only a few clicks. Refer an individual >