Staff Spotlight: Evaleen Baker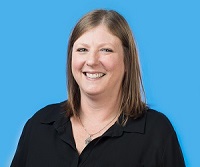 Evaleen has worked in the vision loss rehabilitation industry for almost 20 years, and is extremely passionate about providing high-quality care for her clients.  
"As a low vision specialist, my job is to help our clients understand what they're doing with the ophthalmologist or their eye health care practitioner...and work towards their personal rehabilitation goals," says Evaleen.
When they first meet a new client, low vision specialists like Evaleen conduct a functional performance assessment to help identify the client's individual needs and establish clear rehabilitation goals. After that, a personalized treatment plan is developed, and Evaleen is there to support them as they achieve their goals.
But even after the goals have been met, low vision specialists like Evaleen continue to support many  clients well into the future.
"In my role, I find that I tend to see clients on and off," Evaleen explains.
Sometimes it can be many years after their initial rehabilitation journey before they may need further support, but specialists like Evaleen are always available when they do.
"I might not hear from someone for a while, and then then they'll call us back because they've had further decline in sight and have new goals to meet," she says.
That's why building a strong relationship with her clients is so important to her.
"They call me five years later, and they say, 'Oh, I remember you. I know who you are, and I feel comfortable calling you."
Learn more about VLRC's Primary Services, like low vision services.